Prefolds--Prefolds are big cotton rectangles. They are pre-folded, hence the name, so the center portion is thicker than the sides. Before prefolds, people used flat diapers and had to fold them to make the center thicker. Prefolds are fastened with pins, or a much nicer, safer snappi fastener. Prefolds need a waterproof cover over them.
Prefolds are the cheapest cloth diaper option. They are also the most versatile. Prefolds can be used as burp cloths, changing pads or to wipe up baby messes. If you use pocket diapers, prefolds can be used as inserts. Prefolds can be used as cleaning rags years after baby has been potty trained.
Here is a prefold fastened with a snappi.

Contours--Contours are shaped to fit a baby, but they don't have any elastic like fitteds.   They require a waterproof cover as well.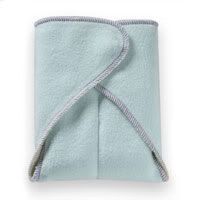 Fitteds--Like prefolds, fitted diapers require a waterproof cover. However they do not need to be folded or fastened; fitted diapers are already shaped to fit your baby. They snap or velcro.
Here is one that snaps, this is a Kissaluvs, these are really nice for newborns, because they snap down in the center for the bellybutton.

And here is a Thirsties Fab Fitted, with velcro.

Diaper covers--diaper covers are waterproof covers that go over a prefold or fitted diaper. Covers come in many cute colors and patterns.

Pocket Diapers--pocket diapers look like disposables, except made of fabric. They contain a pocket. In the pocket, a cloth insert is used to make the diaper absorbant. Inserts can be doubled up for increased absorbancy. They do not need a cover, the outside of them is waterproof. What is nice about pockets, is that they wick away the moisture into the insert inside the diaper, so the baby isn't sitting in wetness like with the prefolds and fitteds.
All in Ones--these are the easiest diapers and the most like disposables. Like their name suggests, they are all in one piece--no covers or inserts required. AIO's are the most expensive cloth diapers. These are great for dads, babysitters and daycares.
Choosing a diaper--when choosing a diaper, think about your needs. Are you willing to do a little extra work to save money? Prefolds or fitteds may be a good choice. Are you willing to spend more money for diapers that require less work? You may want pockets or AIOs. If you are not sure, you can buy a few of each or buy some used diapers to try--that way, you don't spend a lot of money on diapers you may end up disliking. We started with mostly prefolds and a few fitteds for the newborn stage.  Once our son got older, we bought some pockets and AIO's that he will be able to wear for a while!  We do always keep a stash of prefolds on hand though to fill out the stash.